Are You Ready to Explore the Peaceful Side of the Smokies?
Our stunning mountain community is nestled at the front door of the Great Smoky Mountains National Park and offers a unique kind of vacation experience. Come see why we've earned our reputation as the "Peaceful Side" of the Smokies.
Entrance to the Great Smoky Mountains National Park
According to the National Park Service, Great Smoky Mountains National Park is the most visited national park in America. Established in 1934, the park is located on the border between North Carolina and Tennessee and encompasses over 500 thousand acres. Browse our website to see the hikes, rivers, drives and sights that the Smokies has to offer!
Hiking in the Smokies
Located at the entrance of the Great Smoky Mountains National Park, Cades Cove is a hiking destination in the Southeast with trails fit for every kind of adventurer. Whether you're looking for a one-mile or 70-mile hike, you will surely find a trail perfect for you. Local favorites include Mt. LeConte, Chimney Tops, Charlie's Bunion, Abrams Falls and dozens more!
Gateway to Cades Cove
Townsend is known as the "Gateway to Cades Cove," one of the most popular and historic natural resources anywhere in the world. This picturesque valley is surrounded by an 11-mile loop and features multiple locations to view wildlife and enjoy the natural scenery. You may encounter white-tailed deer, elk, black bear, groundhog, coyote, wild turkey, skunk, raccoon and other animals on this gorgeous drive!
What's Happening in Townsend
Townsend host a variety of fun festivals throughout the year that draws locals and visitors alike. Festivals are a great way to get the local community together and celebrate the vibrancy and beauty of this incredible town. Many of these festivals have actually become a tradition for those in the areas nearby. Stay up to date with our calendar so you do not miss the fun!
Whether you're visiting in the winter, summer, fall or spring, Townsend always offers beautiful views and fun things to do. Summer and spring offer the perfect hiking weather, beautiful wildflowers, and fun festivals. Fall gives a display of beautiful, colorful trees while winter offers holiday magic and the chance to see snow on a mountain top. Any time of the year, it's a great place to visit.
Whether it's a book recommendation, a round-up of the best hikes in the national park, or the newest mountain bike park opening up, there's always something to talk about in Townsend! Read the Talk of Townsend to get caught up.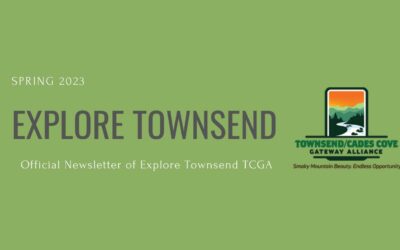 Read the Official Newsletter of Explore Townsend TCGA, Spring 2023! This issue featuring: Sculpture Donation, Festival Fun, and What's New in Townsend
read more